What will be the flagship vehicle of this 2024 edition?
After Citroën in 2019, Alfa Romeo in 2020, Jaguar in 2022 and Porsche in 2023, the Rétromobile team decided this year to look across the Channel. And it didn't take long before it fell under the spell of a green British vehicle with rounded shapes and a streamlined silhouette. No more suspense, fasten your seatbelts... the vehicle that will adorn the official Retromobile 2024 poster is the MG EX 181!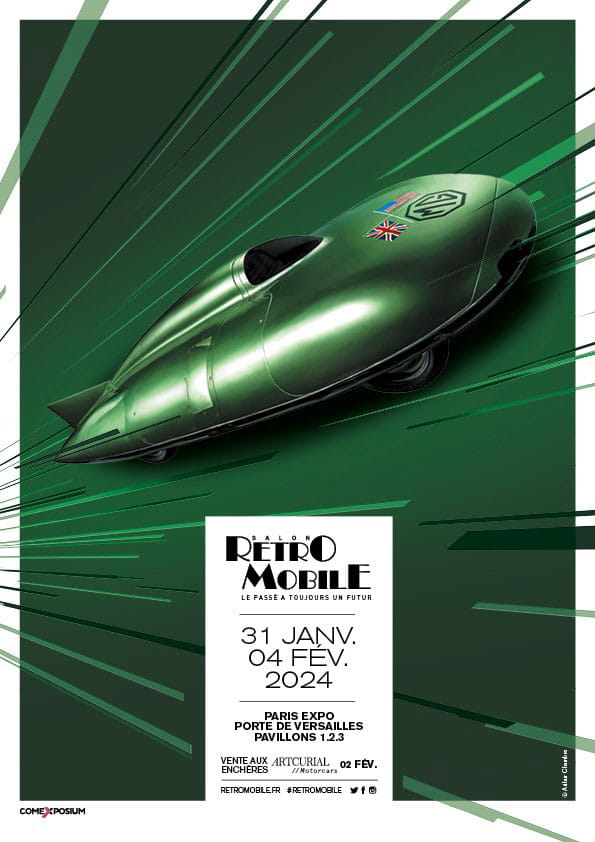 British style and speed!
When one mentions the MG EX 181, two elements immediately come to mind.
First of all, its design: with its futuristic lines reminiscent of a jet plane or a spaceship, the one nicknamed the "Roaring Raindrop" is a complete break with its time. This aspect is further enhanced by its green colour, which is reminiscent of the "British Racing Green".
Then there's its record-breaking legend: in 1957, on the Bonneville Salt Lake in Utah, the British pilot Stirling Moss reached the insane speed of 245.64 mph (about 395.31 km/h). The MG EX 181 was equipped with a 1500 cc MGA Twin Cam turbocharged engine developing 290 bhp at 7300 rpm and set a new world speed record. Another attempt was made two years later, in 1959, with Phil Hill and an engine with 300hp. This time, the British manufacturer broke the symbolic 250mph barrier by raising the record to 254.91mph (410.5km/h).
More than six decades later, the MG EX 181 is now enjoying a well-deserved retirement in the unique British Motor Museum just a few miles outside Birmingham, England.